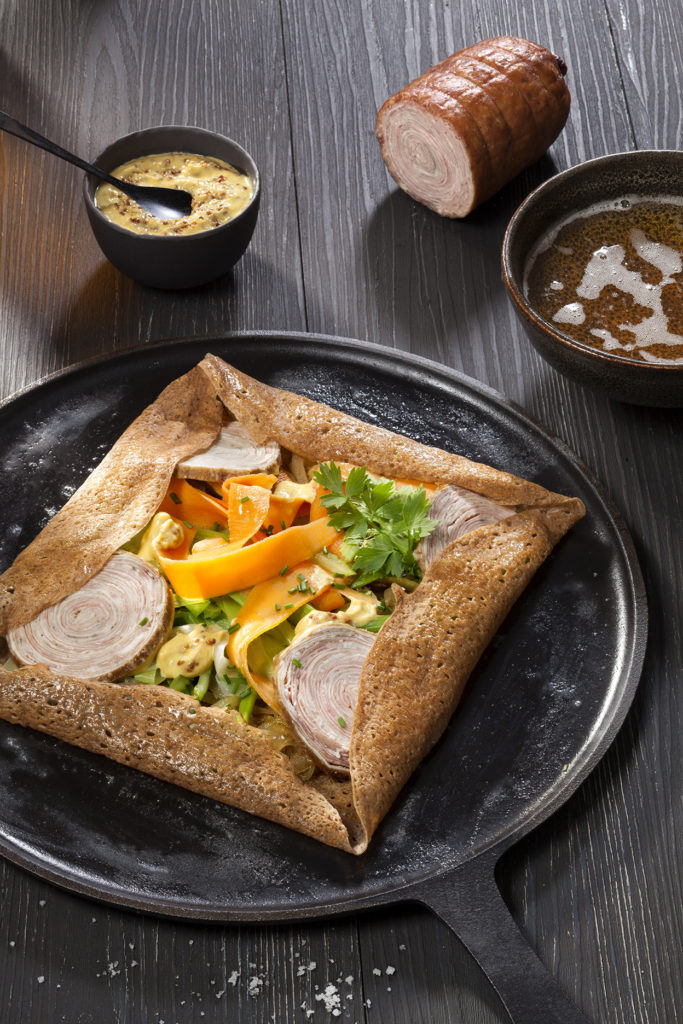 Ingredients
Serves 4
200g andouille
4 large buckwheat pancakes (pre-bought or make your own!)
2 carrots
1 leek
1 stick celery
1 onion
2 tbsp finely chopped chives
2 tbsp light single cream (5% fat)
3 tbsp wholegrain mustard
25g butter
Salt
Freshly ground pepper

Preparation
Preparation: 15 minutes
Cooking: 15 minutes
Peel and cut the carrots into ribbons using a vegetable peeler
Finely chop the onion into thin rounds, dice the celery and cut the sausage in 16 thin rounds
Wash and cut the leek into two lengthways before cutting into long strips. Boil for five minutes in a small pan of salted boiling water until softened
Add the carrots and celery to the leeks and cook for one more minute
Drain the vegetables and set aside
Add 10g butter to a pan and sauté the onion, season with salt and pepper
To make the sauce, mix the mustard and cream
Heat a pancake pan on low heat, add a small knob of butter. Lay the first pancake flat in the pan
Top the pancake with the vegetables, 4 slices of sausage, a little sauce and sprinkle with chopped chives. Cook for 2 to 3 minutes until golden, fold the pancake edges towards the middle and finish cooking until crispy
Season with salt and freshly ground pepper and serve immediately with a glass of cider
Repeat with the remaining pancakes adding a fresh knob of butter each time.