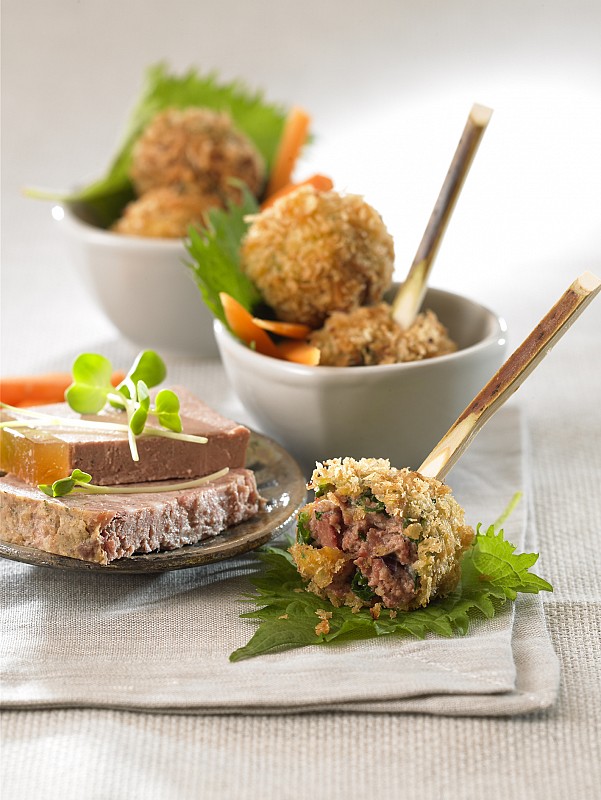 Ingredients
350g liver pâté
350g country-style pâté
Fresh chives, chopped
2 red onions, finely chopped
Olive oil
150g baby spinach
4 shallots, finely chopped
2 tbsp fresh coriander, finely chopped
4 egg yolks
300g panko or standard breadcrumbs
Celery salt
2 tbsp Espelette chilli pepper cream (or tabasco)
Mild mustard
Espelette chilli pepper mustard (or spicy mustard)
1 tbsp Espelette chilli pepper jelly or 1 tbsp honey
Rocket, onions and diced tomatoes, for garnish

Preparation
Sweat the red onions in olive oil, then cook the baby spinach for 30 seconds in olive oil. Allow to cool.
Coarsely chop both pâtés. Place the chopped pâté in a container and add the chopped red onions, chopped spinach, shallots and coriander. Mix well and shape into 30g meat balls.
For the coating: dip the meatballs in the beaten egg yolks, then roll in breadcrumbs. Deep fry for 3 minutes at 180°C. Set aside.
For the sauce: mix the Espelette chilli pepper cream, both mustards and Espelette chilli pepper jelly.
Serve the croquettes with the pepper sauce, a few rocket leaves, onions and diced tomatoes.