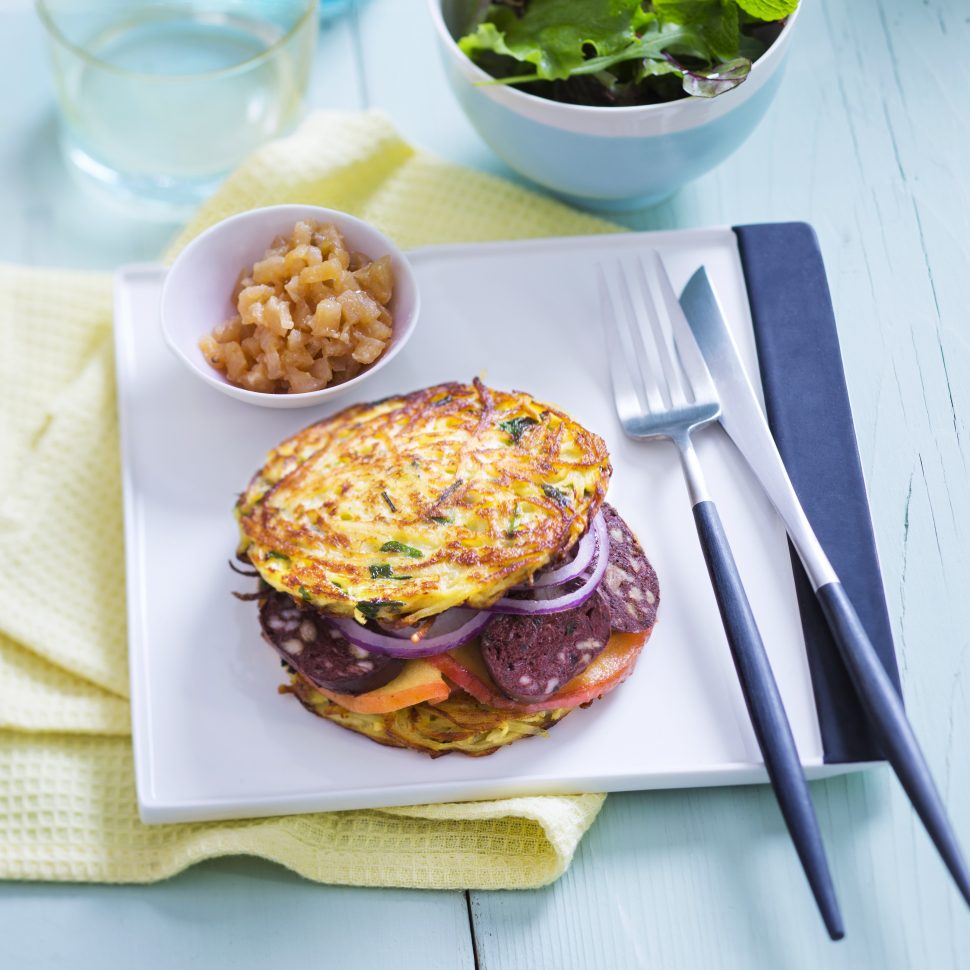 Ingredients
makes 4 burgers
2 boudin noir
2 Gala apples
20g semi-salted butter
1 red onion
1 tbsp brown sugar                         
For the fennel-apple-ginger chutney
1 onion
1 fennel bulb
1 Gala apple, peeled and diced
20g semi-salted butter
1 small thumb fresh ginger, grated
Salt, freshly ground pepper
125ml water
125ml cider vinegar
50g brown sugar
Pepper (optional)
For the hash browns
½ red onion
800g potatoes
2 eggs
A pinch of nutmeg
1 tbsp chopped parsley
A dash of olive oil
Salt and pepper
Green mesclun-type salad
A few mint leaves

Preparation
For the fennel-apple-ginger chutney
Peel the onion and chop finely.
Wash the fennel, remove the stalks and dice finely.
Wash the apple, peel, deseed and dice finely.
In a saucepan, brown the minced onion in butter. Add the diced fennel, diced apples and fresh grated ginger. Continue cooking over a low heat while stirring regularly, until the diced fennel is tender. Season to taste with salt and pepper.
Add the water, cider vinegar, brown sugar and pepper, then bring to the boil. Simmer for 30-40 minutes, or until the consistency of syrup. Set aside.
   For the hash browns
Chop the red onion finely. Wash the potatoes, peel and grate. Crack the eggs, beat into an omelette and mix with the grated potatoes.
Add the minced onion, nutmeg and chopped parsley. Mix well. Season to taste with salt and pepper.
Heat the oil in a non-stick skillet.
Retain a heaped tablespoon of the potato mix to make the hash browns. Flatten well.  One by one, place them in the hot oil. Cook them 6 – 8 minutes on each side, or until golden brown. Drain on paper towels.
Wash and thinly slice the apples.
In a very hot frying pan, melt the butter, and brown the apple slices. Lightly sprinkle with brown sugar and caramelise for a few minutes. Set aside.
Peel the red onion and cut into thin slices.
In a very hot frying pan, fry the boudin noir slices and remove.
Place a few boudin rings over each hash brown, add a few slices of red onion and caramelised apples.
Serve the blood sausage burger with a minty green salad.