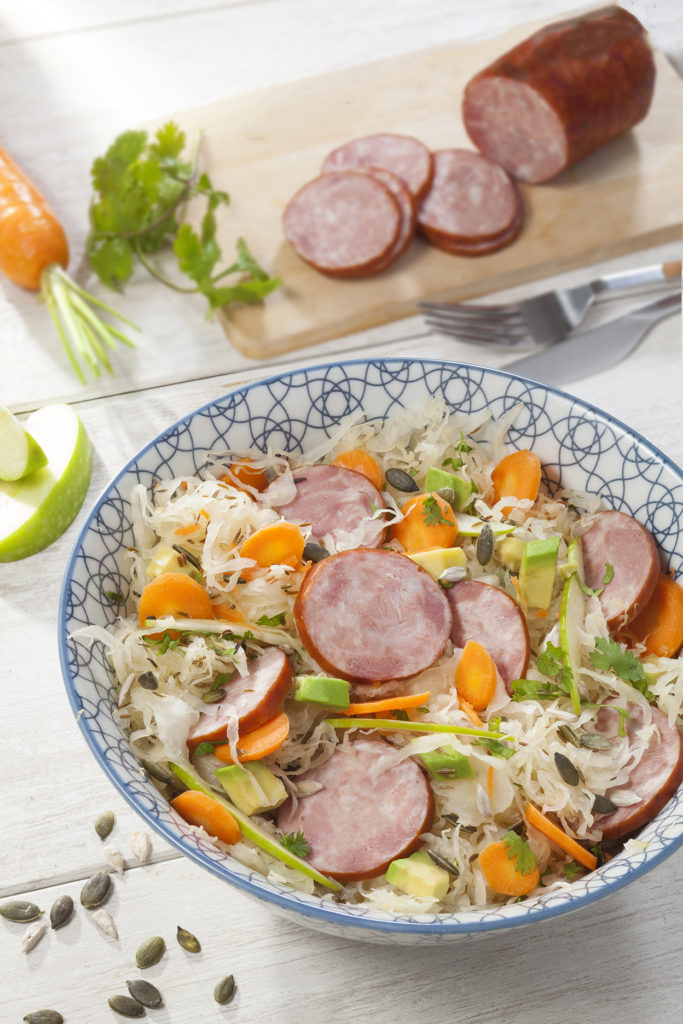 Ingredients
Serves 4
800g raw sauerkraut
200g dry-cured garlic sausage
1 organic Granny Smith apple
1 carrot
1 avocado
3 tbsp finely chopped coriander
1 tsp cumin seeds
4 tbsp salad seed mix to garnish
4 tbsp olive oil
1 tbsp cider vinegar to make a light vinaigrette
Salt
Freshly ground pepper

Preparation
Preparation: 10 minutes
Rinse and drain the raw sauerkraut, dry in a clean tea towel, place in a large salad bowl and separate the strands with a fork.
Add the cumin, chopped coriander and freshly ground pepper.
Peel the carrot and cut into rounds.
Peel the avocado, remove the stone and cut into small dice.
Wash the apple, quarter and slice thinly.
Thinly slice the garlic dried-sausage.
Prepare a vinaigrette by mixing 4 tbsp oil with the cider vinegar. Add salt and freshly ground pepper (you can do this in a jar and shake vigorously!).
In a large salad bowl, delicately mix the sauerkraut with all remaining ingredients and pour over the vinaigrette.
Top with the seeds and serve well chilled.