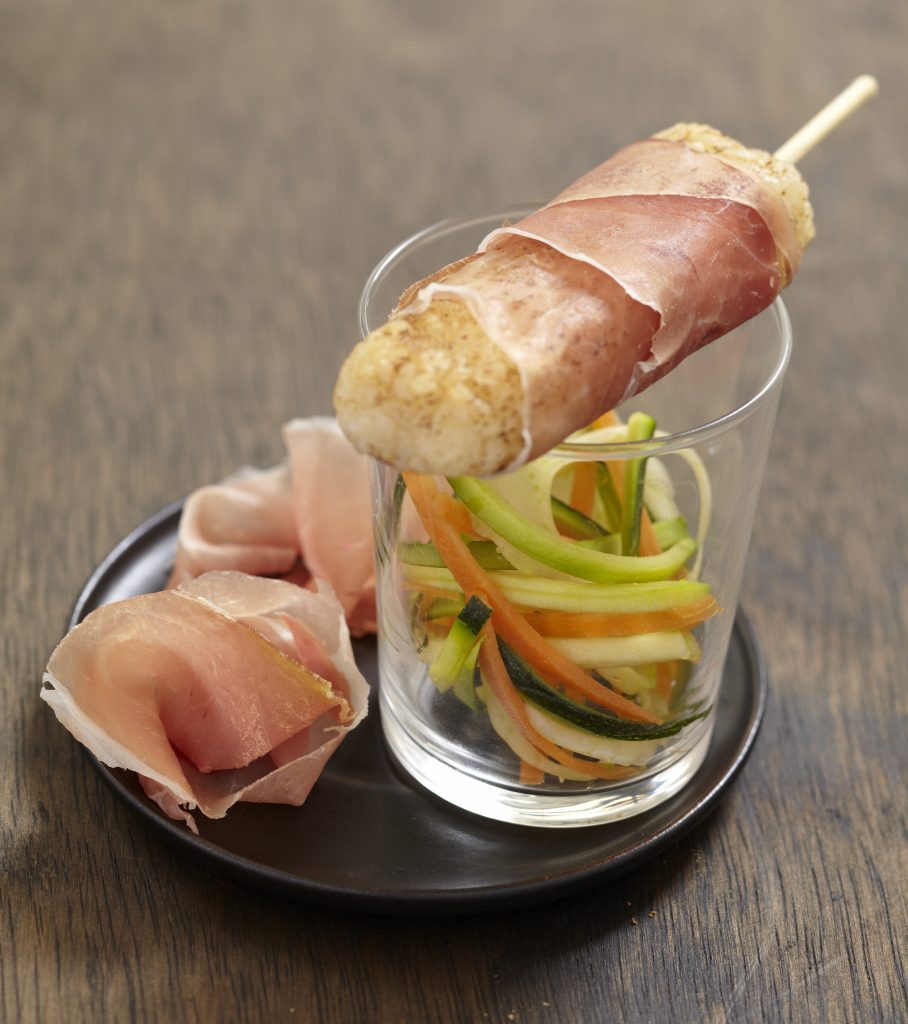 Ingredients
Serves 4
12 thin slices of dry-cured ham
½ onion
100ml olive oil
100g risotto rice (Arborio)
100ml white wine
1 chicken stock cube
400ml chicken stock
50g grated Parmesan cheese
1 carrot
1 courgette
½ fennel bulb
30g butter
Juice of ½ a lemon
Salt and pepper

Preparation
Preparation: 30 mins
Chilling time: 2 hours
Chop the onion. In a saucepan, soften the chopped onion in 50ml of olive oil at low heat for 5 minutes, without browning. Add the rice. Coat with olive oil, salt, pepper, then pour in the white wine. Cook for 3 minutes on medium heat.
Meanwhile, dissolve the stock cube in boiling water.
Pour 1/3 of the stock over the rice. Cook while stirring continuously, adding more stock until it is fully absorbed each time.
Remove from the heat, add the grated Parmesan, mix then leave to cool.
To make the lollipop shape, spread a generous spoonful of rice mixture onto 2 sheets of plastic wrap and carefully roll up each sheet into a sausage shape. Refrigerate for at least 2 hours.
Meanwhile, wash the vegetables. Peel the carrot, grate the courgette and carrot, and thinly slice the fennel. In a salad bowl, combine the remaining olive oil (50ml) with the lemon juice, salt and pepper. Add the vegetables and stir.
Remove the risotto from the refrigerator, take out of the plastic wrap and cut into 12 slices of equal thickness. Sink a small stick into each one. Sauté each lollipop in butter in a frying pan for 2 minutes on each side until golden. Drain on paper towels then wrap in a slice of dry-cured ham.
Divide the raw vegetables between 4 glasses, add the risotto lollipops and serve immediately.