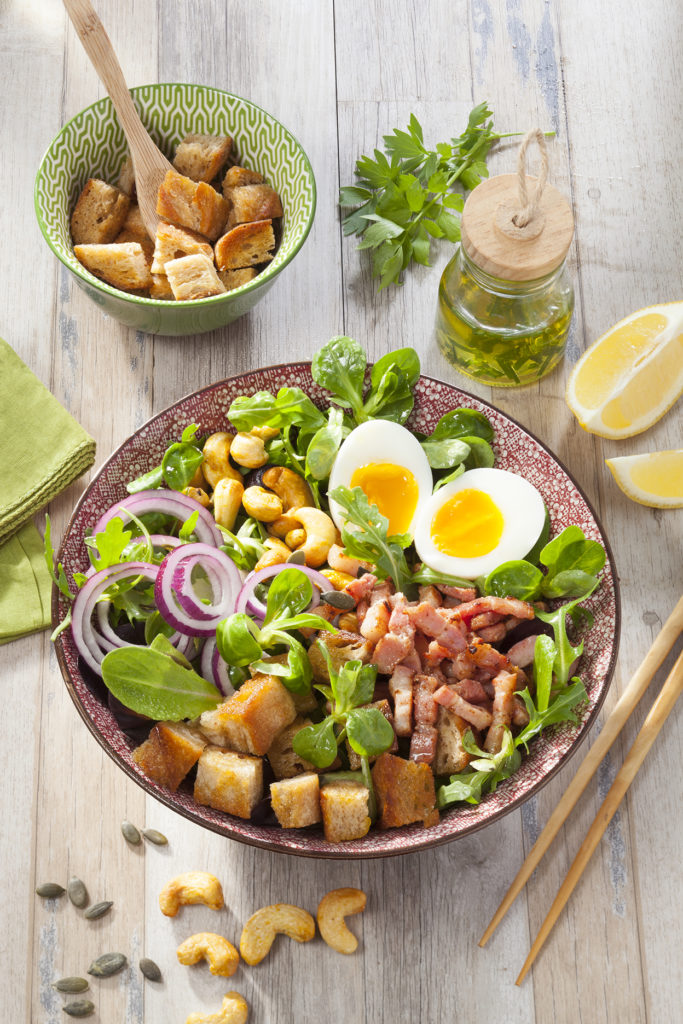 Ingredients
Serves 4
150g mixed mesclun/spring salad shoots
150g smoked bacon lardons
4 eggs
1 red onion
60g cashew nuts
20g pumpkin seeds
½ bunch chives
½ bunch parsley
½ baguette
2 bay leaves
4 tbsp olive oil to make a light vinaigrette and to pan-fry the croutons
1 lemon
Salt
Freshly ground pepper

Preparation
Preparation: 10 minutes
Cooking: 10 minutes
Rinse and dry the salad leaves.
Very finely chop the herbs and slice the red onion into thin rings.
Cook the eggs for 6 minutes in a pan of boiling salted water. Plunge in a bowl of cold water and peel carefully.
Dry-fry the lardons for 3 – 4 minutes in a non-stick pan without any additional fat. Remove.
Put one tbsp olive oil to the pan and fry the croutons until golden.
To make the vinaigrette, mix 3 tbsp olive oil with the juice of a lemon and the chopped herbs (you can do this in a jar and shake vigorously). Season with salt and freshly ground pepper.
Mix the salad leaves with half the vinaigrette and place in 4 generous bowls.
One ingredient at a time, layer with the lardons, croutons, onion rings, cashew nuts and pumpkin seeds.
Top with a soft-boiled egg, sliced in two. Pour over the remaining vinaigrette and serve immediately.