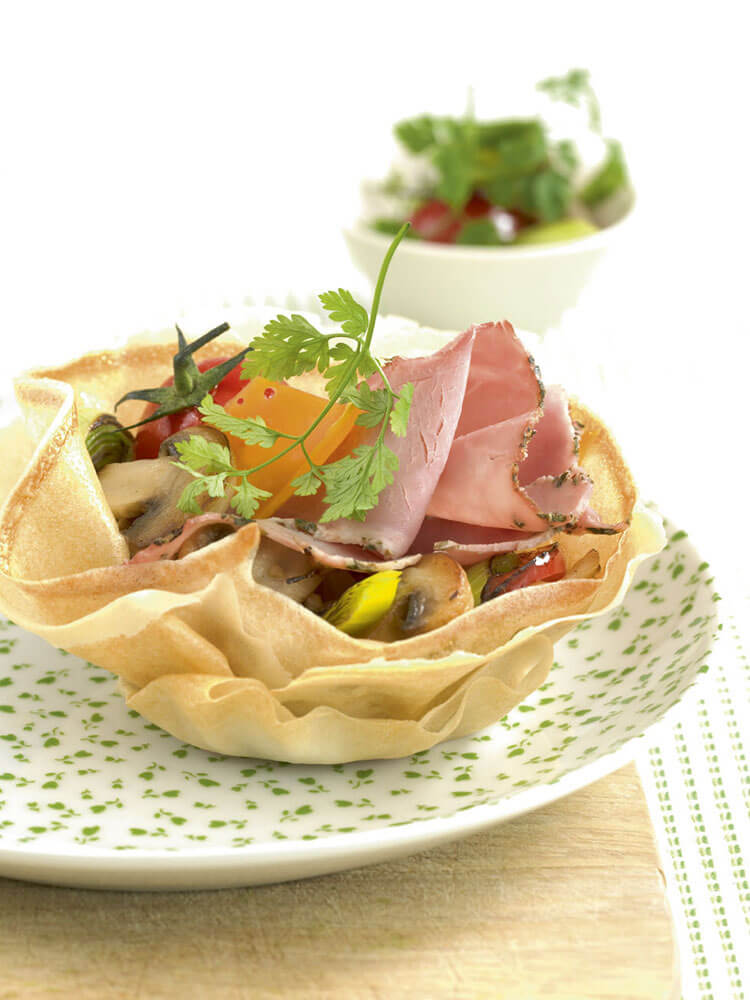 Ingredients
2 thin slices of cooked ham with herbs
4 sheets of filo pastry
8 cherry tomatoes
12 white mushrooms
4 onions
½ red pepper
Olive oil
Salt and pepper
A few shavings of mature Mimolette cheese
Freshly ground pepper
4 mini pie tins

Preparation
Preheat the oven to 200°C.
Halve the sheets of filo pastry.
Place the first filo pastry sheet half at the base of a mini pie tin. Place the second half on top at an angle to make a flower shape.
Keep the sheets in position with a mini pie tin.
Prepare the other three flower-shaped pastries in a similar fashion and cook in the oven for 10 minutes.
Allow the pastries to cool before gently removing from the casing.
Meanwhile, take the mushrooms, remove the stems and cut in half or quarters, depending on their size.
Finely chop the onions.
Cut the red pepper into strips.
Heat a frying pan with a dash of olive oil, then throw in all the vegetables. Sauté for 5 minutes over high heat. Season with salt and pepper and share the mixture among the pastries.
Cut the ham slices in half. Add 1 slice of cooked ham with herbs to each pastry, and top with a few shavings of Mimolette. Serve immediately.