HISTORY
If pâté dates back to Roman times – Nero was a huge fan – over the centuries the original concept has evolved and transformed into myriad delicacies creating an endless source of pleasure.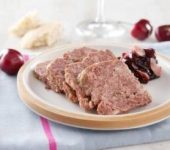 In the Middle Ages, terrines and pâtés were differentiated by the way they were cooked. Terrines were cooked in an earthenware dish, whereas pâtés were cooked inside pastry (not always edible!), like a meat pie. The very thick pastry crust served merely to protect the meat filling during cooking and transport, since offering these highly sought-after pâté delicacies was an accepted custom of the time. In fact pâté took centre stage at meal times and on long journeys. These were known simply as patisseries (meats cooked in pastry), and numerous recipes existed at the time, prepared with pork, poultry, eel, carp, sturgeon, monkfish, cod, venison, capon, godiveau, sheep's tongue, blade of beef pie and bacon. The term 'pâté' came to designate any blended meat preparation cooked in pastry.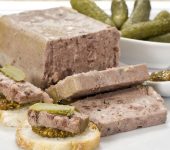 Over the years, every region across France has developed its own pâté recipe, stamped with its distinctive regional DNA. Pâté rennais (from Rennes), prepared with pork meat, is just one example. Traditionally, pâté would be made in a casse, a deep pot cooked in the embers, then baked in the oven. And Picardie is another region that has played an instrumental role in the history of pâté…
In the 17th century, Picardie in northern France was renowned for its game, and one of the richest sources of pâtés and terrines, including pâté d'Amiens (duck), ham pâté, partridge or milk pig pâté from Montdidier, and multitudinous pâtés prepared with hare, turkey, woodcock, leg of lamb or veal loin.  In 1799, Jacques Peuchet recorded in his Dictionary of the geography of commerce (French: Dictionnaire Universel de la geographie commercante): "The renown of pâté d'Amiens is well known". He added: "This delicate dish is not only consumed in the town, but exported to other towns, notably Paris, where food traders always have fine examples."
Over time, many famous people have lent their names to a number of specially created recipes, with examples including pâté à la Mazarine (dedicated to Cardinal Mazarin), pâté à la Cardinale, and pâté à la reine. In his Great Dictionary of Cuisine, (French: Grand Dictionnaire de Cuisine), Alexandre Dumas names a dozen varieties including à la financière, à la ciboulette (chives), au jambon (ham), and à l'anglaise.
At the beginning of the 19th century, Nicolas Appert became the godfather of preservation. When Napoleon Bonaparte launched a competition to find a way to preserve food for his army, Appart came up with a method that combined heating with sealing food in air-tight containers. By heat-sterilisation, this system, known in France as appertisation, meant that food could be kept at ambient temperature for long periods, and is now used throughout the world.
In the second half of the 20th century, refrigerators in the home became more normalised and advancements in processing methods improved food safety, resulting in a vast spectrum of flavours and formats.
Canning has replaced other preservation methods to meet new consumer demands, and today, pâtés are sold in transparent glass containers such as jars and pots.
Meanwhile, innovation in fresh food packaging has literally exploded, both on shelf and over the counter, spawning a range of solutions ranging from mini-terrines served as a starter, bite-size nibbles and resealable trays. Single-serve portions are the perfect solution to maintain a varied diet and are particularly handy for those eating alone or plus one. Also, advances in packaging closures make pâtés even more convenient to store in the fridge.
With new packaging and new textures, over time pâtés have gradually become more refined, softer and spreadable, slowly evolving in line with changing consumer tastes.
THE ART OF PRODUCTION
Pâtés for every palate!
Whatever your mood, a tasty, country-style pâté de campagne, packed with meat and full of flavour, spread generously on rustic bread, or a more delicate liver mousse pâté served on buttery toast, will both hit the spot. With a seemingly infinite range of flavours and textures, anything is possible. This diversity is the result not only of a vast range of raw ingredients and preparation techniques such as seasonings and marinades, but also how the meat is ground (minced) and cooking method. Pâté can be found under three types of grain: fine, coarse and a mixture of the two, where only some of the ingredients are ground…
Finely-ground pâté
There are numerous recipes for finely-ground pâté. Among the most famous examples are pâté de foie (liver pâté) and mousse de canard (duck mousse or smooth pâté).  The pâtés tend to be sold in a block or rectangular shape, and are even and spreadable in texture.
Liver pâté, covered in a layer of bacon, is made from pig's liver, while duck mousse pâté tends to be light and airy in style.
Coarse-grained pâté
Pâté Breton from Brittany is the most famous of the rustic pâtés de campagne. It is prepared exclusively from pork meat and liver, always baked in the oven, and its distinguishing characteristic is that the fat is scalded or poached. Wrapped in caul, its grainy surface is brown to black in colour.
Once sliced, chunks of meat or pork livers are clearly visible. Depending on the recipe, onions, shallots, spices and seasonings can also be incorporated.
Mixed grain pâtés
Pâtés forestiers fall into this category.  The meat mixture has the appearance of a smooth-grained pâté in which chunks of liver and wild mushrooms are clearly visible (1-10% depending on the product). Pâté Ardennois, is another mixed grain exponent, made exclusively from lean pork, pork offal and pork fat.
Festive Pâtés
Delicately flavoured, pâté en croute (meat pastries) galantines and ballotines are often associated with special occasions. Some pâtés are enhanced with goose or duck foie gras, truffles, and other festive fayre. For Christmas and New Year, these delicacies are often decorated with bright colours for an additional festive feel.
Ballotine and Galantine
With their delicate flavours, ballotine and galantine are prepared from lean forcemeat consisting of long strips of poultry, game, veal, pork or rabbit, together with offal (goose or duck foie gras or liver). The distinguishing feature of ballotines and galantines is their refined meat filling flecked with pieces of meat and/or liver (accounting for at least 35% of total weight). Ballotines are cooked sous vide and are rounded in shape with a smooth texture. Galantines tend to be rectangular in shape.
Special designations
Pâtés too can benefit from quality designations such as à l'ancienne, traditionnel and superieure, which are all strictly regulated by the Charcuterie best practice guide (French: Code des Usages de la Charcuterie, as well as coveted quality designations such as Label Rouge.
According to the Code des Usages:
A product of superior quality must contain more premium ingredients (eg, pâté de foie gras superieur contains at least 30% foie gras and less additives.
A pâté superieur can be traditionnel if only milk, eggs and blood are used to bind the meat, and free from food colourings (only caramel can be added on the surface)
To qualify as à l'ancienne the product must, in addition, be prepared from refrigerated meat.
Every stage in the process is the opportunity for the maker to showcase his creativity and know-how and offer consumers an exciting range of specialities, where innovation meets regional tradition.
Depending on the whims and inventiveness of the chef, pâtés can be enhanced with truffles (namely in liver pâté), or foie gras in pâté en croute, orange in duck liver pâté, seasoning and notably thyme for rabbit pâté, mushrooms – ceps in particular – and onions for country-style pâtés. Herbs, parsley in particular, and also marjoram or sage, add a touch of finesse to both pork or game pâté. Some chefs prefer to include speciality salts such as sel de Guerende or de Noirmoutier, peppercorns, berries, spices and even alcohol (Armagnac and Cognac), liqueurs (like juniper) or wine (Sauvignon or vin jaune from Jura).
Here are a few delicacies of which you'll never tire:
REGIONAL SPECIALITIES
Each region boasts its own fiercely-guarded recipes, and never divulges the critical extra-touch which unlocks the secret to the dish; that perfume note or hint of flavour that will make the speciality so unique.
The map below pinpoints a great range of regional pâtés, including some of the more unusual examples: pâté de Chartres (partridge and/or pheasant and/or duck), pâté de Pithiviers (lark) and Pezenas (sheep, spices and sugar).
[vc_row][vc_column][vc_single_image image="2104″ img_size="full" alignment="center" onclick="custom_link" link="https://www.lescharcuteries.fr/wp-content/uploads/2017/08/terrine_pates_complete.png"][/vc_column][/vc_row]