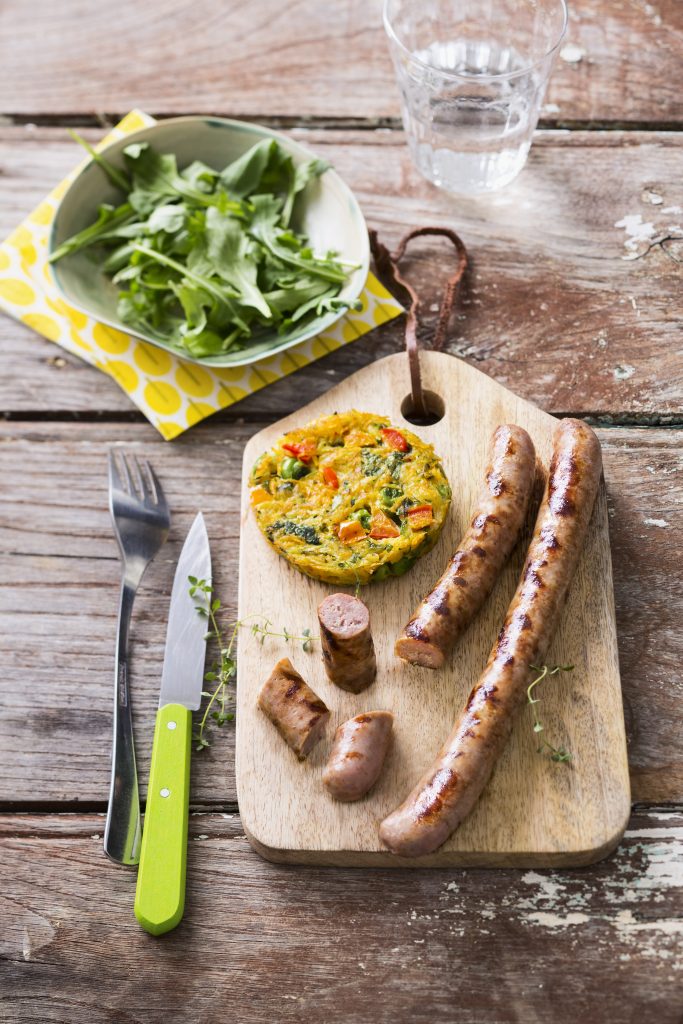 Ingredients
serves 4
 For the marinade
Juice of 1 fresh lemon
A few flat-leaf parsley leaves
A few basil leaves
3 tbsp olive oil
 For the vegetable chips
120g shelled peas
350g potatoes
1 or 2 carrots
1 small courgette
½ red pepper
½ orange pepper
½ handful fresh coriander
2 eggs
Olive oil
Salt, freshly ground pepper

Preparation
For the marinade
Combine all the marinade ingredients. Marinate the chipolatas for 30 to 40 minutes, turning regularly.
 For the vegetable chips
Wash all the vegetables. Plunge the shelled peas in salted boiling water for 12 to 15 minutes.
Peel the potatoes and carrots. Grate, as well as the small courgette. Drain for a few minutes. Remove seeds from peppers and dice. Rinse the coriander and chop finely.
In a large salad bowl, mix the grated vegetables, diced peppers, shelled peas and coriander. Add the eggs and mix well. Season with salt and pepper.
Heat a little olive oil in a pan, and, using 1 to 2 tbsp of the mixture at a time, make round-shaped patties. Cook over a low heat for 8 to 10 minutes, keeping a close eye. Gently flip with a spatula and keep cooking for 8 to 10 minutes.
Meanwhile, grill the marinated chipolatas for about 15 minutes, turning them halfway through cooking.
Serve the grilled chipolatas with vegetable chips and a green salad.