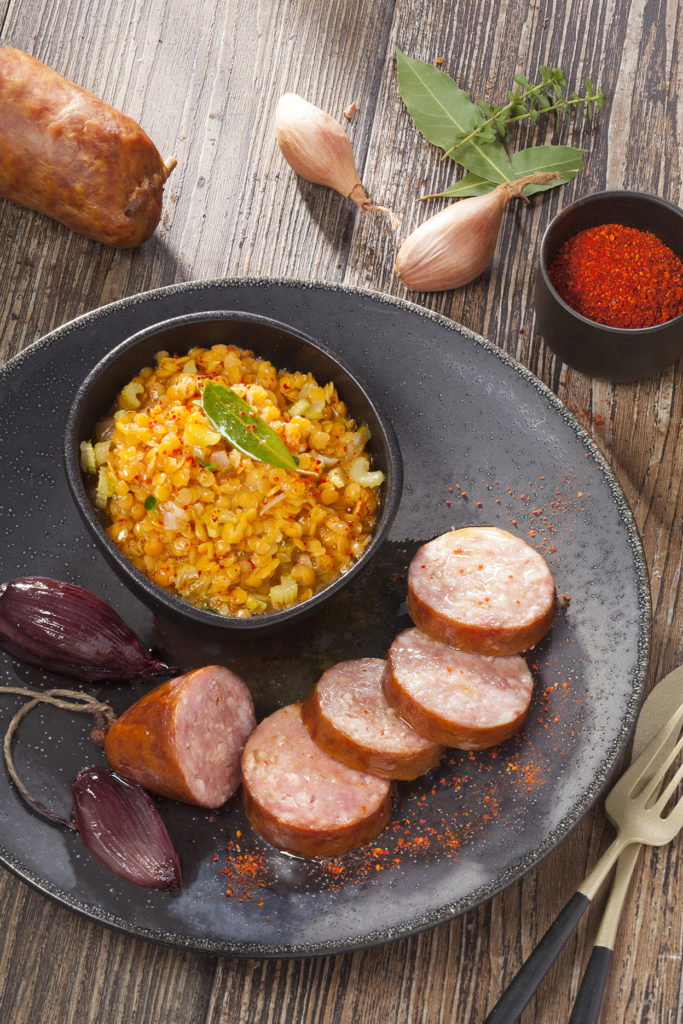 Ingredients
Serves 4
1 Morteau sausage
210g red lentils
4 shallots
1 small stick of celery
2 tbsp low fat single cream (5% fat content)
1 tbsp olive oil
2 tbsp balsamic vinegar
2 sprigs thyme
2 bay leaves
1 tsp Espelette pepper
Salt
Freshly ground pepper

Preparation
Preparation: 15 minutes
Cooking: 35 minutes
Immerse the Morteau sausage in a pan of cold water and simmer for 35 minutes.
Meanwhile, peel the shallots and cut in half lengthways. In a small pan, gently sauté the shallots for 5 minutes in 1 tbsp olive oil.
Add balsamic vinegar and 75ml of water. Season, cover and cook for a further 15 minutes. Remove the lid and cook for another 5 minutes to ensure the sauce has thickened enough to coat a spoon.
Pour the lentils in a second pan of salted boiling water. Add the thyme, bay leaves, finely chopped celery stick and Espelette pepper.
Cook for 5 minutes on a low heat.
Drain the lentils reserving a little cooking water in the pan. Add the cream, mix well and check seasoning, adding salt and pepper if required.
When the sausage is cooked, slice and arrange on four plates. Serve with the confit shallots and small bowls of lentils.