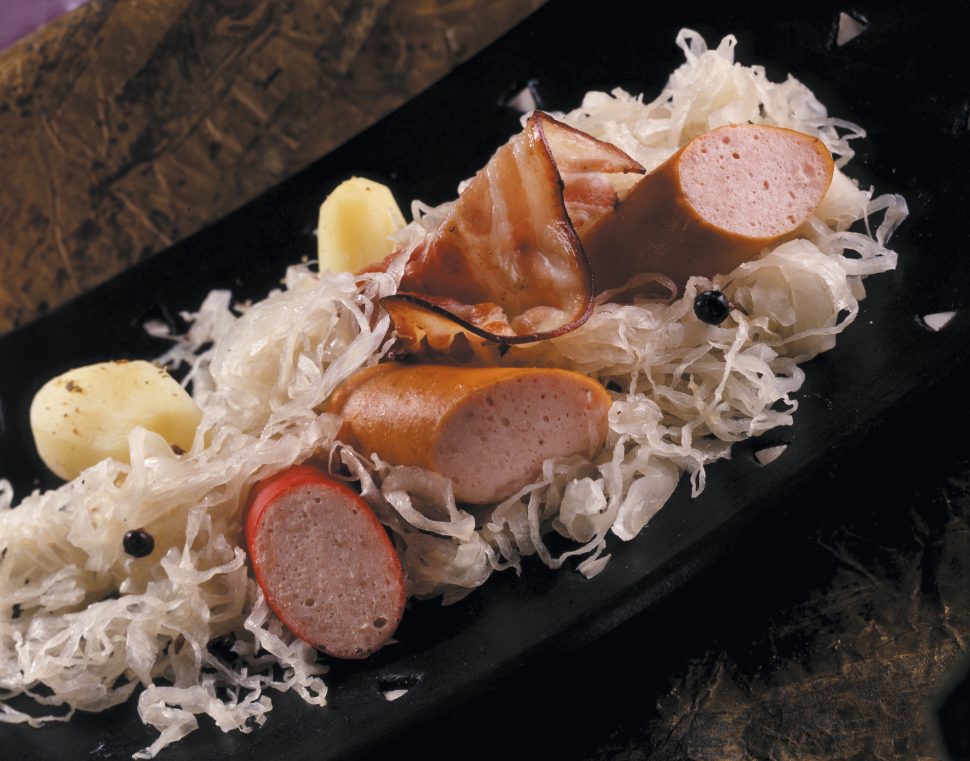 Ingredients
2kg raw sauerkraut (choucroute)
8 hot dogs (or smoked sausages)
1 smoked sausage to cook
1 knuckle of ham (or ham)
700g smoked pork shoulder
500g lean bacon, low sodium
700g rack of pork, salted
1 tbsp juniper berries
3 cloves
1 tsp peppercorns
3 garlic cloves, peeled
1 bay leaf
3 onions, peeled and thinly sliced
120g goose fat
3 carrots, washed and peeled
1 bottle of Alsace PDO wine
500ml chicken stock
8 potatoes, peeled
Salt

Preparation
Rinse the sauerkraut in cold water until the water runs fairly clear. Squeeze to drain of all water.
Blanch the knuckle of ham, the shoulder, the bacon and the rack of pork for 5 minutes in boiling water. Run cold water over them and drain.
Wrap the juniper berries, cloves, peppercorns, garlic cloves and bay leaf in a piece of cheesecloth and tie to make a bouquet garni.
In a large saucepan, sauté the onions for 3 minutes in the goose fat, without browning them. Add the sauerkraut, fluffing with a fork. Place the bouquet garni and carrots in the middle, then pour in the wine and stock. Mix well.
Place the knuckle of ham and pork shoulder over the sauerkraut. Cover tightly and cook for 30 minutes over a very low heat.
Add the bacon and rack of pork by pressing into the sauerkraut. Keep cooking for 1 hour and a half, and drizzle with a bit of water if needed (make sure there is always a bit of liquid at the bottom of the saucepan).
Next, prick the smoked sausage with a fork to prevent it bursting during cooking, and nestle in the sauerkraut. Add the potatoes, cover and continue cooking for another hour.
Meanwhile, poach the hot dogs for 2 minutes in simmering water. Turn off the heat and leave in the warm water.
About 10 minutes before the sauerkraut is ready, drain the sausages and set aside next to the potatoes to keep warm.
When the cooking time is up (and after removing the bouquet garni), arrange the sauerkraut in the shape of a dome on a serving dish. Add the sliced meat, sausages and potatoes around the edges.
Serve very hot.